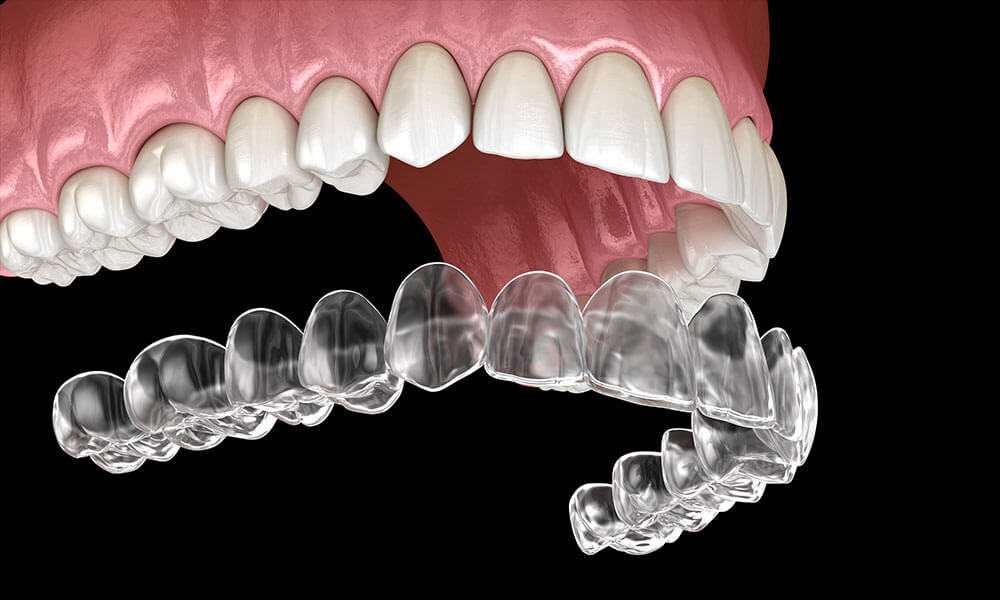 When it comes to achieving straighter teeth, not everyone likes the look of traditional metal braces. Invisalign clear braces can straighten your teeth and correct bite irregularities in a more attractive way. They allow for a more natural appearance as they're clear and virtually undetectable. While Invisalign tends to be a more expensive treatment, the results you get from wearing them can be well worth the extra cost.
The question is, how much does Invisalign actually cost? And is it really worth it? Let's find out.
WHAT'S THE AVERAGE COST OF INVISALIGN?
The average price of Invisalign is about $5,000. However, the cost of Invisalign braces can range from $3,500 to $8,000. This price can vary based on a variety of factors such as:
Your location and average prices in your city
How much alignment and straightening your teeth require
How many aligners you need throughout treatment
Whether or not you need additional treatment (i.e. corrective surgery) or aftercare (i.e. retainers)
How much your insurance is willing to cover
Your orthodontist will perform an initial consultation by evaluating and checking the condition of your teeth. He or she will determine the actual cost of treatment based on your individual needs including the extent of your dental problems and how long your treatment will last.
HOW DOES INVISALIGN WORK?
Invisalign treatment involves wearing a set of clear custom-made plastic aligners. After your initial consultation, your orthodontist will perform a digital scan to create a customized treatment plan for you. The digital scan will show precise 3-D images of your teeth, which will help map out their movements over the course of your treatment.
Your doctor will then use the 3-D images to create your custom-made aligners, which will fit your unique teeth. The aligners help control the force used to straighten teeth and the timing of force application. Your doctor will determine which teeth are moved during each stage. This is what helps shift your teeth in the proper position over time, much like braces do. The difference is, Invisalign provides this benefit without being detectable.
Ideally, you should wear your aligners for at least 22 hours a day for optimal results. You'll need to change them out every two weeks as your teeth move slowly or graduate to their proper positions. Treatment for the average adult case is around 12 months. However, the duration of treatment will depend on the severity of your case.
After treatment, your orthodontist will likely recommend you wear a retainer at night. This is to prevent your teeth from shifting back to their pre-treatment position.
BOOK ONLINE TO GET A FREE EXAM & X-RAY
BENEFITS OF INVISALIGN
Invisalign treatment provides a variety of benefits to patients beyond just being virtually undetectable. Below are just some of the ways Invisalign can improve your overall dental health.
CORRECTS VARIOUS DENTAL PROBLEMS
Invisalign helps treat gapped teeth, overbites, underbites and crowded teeth. Gapped teeth can create issues within the gums and leave them unprotected, making them susceptible to disease. Overbites and underbites can cause stress to the jaw and can lead to painful joint problems. Overly crowded teeth can cause plaque buildup as it may be difficult to floss effectively. As a result, cavities can form in these crowded areas. Invisalign can help address all these problems and promote your best possible oral health.
Invisalign also promotes:
Healthier gums
Easier cleanings
Improved chewing
Improved speech
A greater sense of wellbeing
ACTS AS A CONVENIENT TREATMENT OPTION
Unlike traditional braces, you can take out your aligners to eat or drink. This means that you can still enjoy some of your favorite foods such as pizza crust, candy, popcorn and nuts – all delicacies you wouldn't be able to enjoy while wearing traditional braces. With Invisalign, you wouldn't have to worry about anything getting stuck in wires or brackets. This makes it easier to clean your teeth because all you need to do is take your clear aligners out and brush as you normally would.
PROVIDES COMFORT
Invisalign is made of smooth, comfortable plastic. The aligners will gently move your teeth without rubbing or irritating your mouth like wires and brackets can. Unlike metal braces that can stretch and irritate the inside of your cheeks, Invisalign may only cause a feeling of pressure during the first few days of each treatment stage.
INCREASES CONFIDENCE
Wearing regular metal braces can make you feel self-conscious and affect your speech. They can also make you feel awkward in social settings because they're very noticeable. Furthermore, food can get caught in your braces without you even knowing it. Invisalign clear braces are barely noticeable and can make you feel more confident. Once treatment is done, you'll likely enjoy your new smile and be excited to show it off.
ALLOWS FOR SHORTER TREATMENT
Clear aligners can straighten your teeth in a shorter period of time than regular braces can. You can expect to undergo treatment with Invisalign for about 6 to 18 months. Patients wearing metal braces may expect treatment to take as long as five years. A shorter duration of treatment also means fewer dental appointments with Invisalign.
For an even shorter treatment plan, you might try Invisalign Express. The cost of Invisalign Express, which can be completed in as little as three months, is typically between $1,800 and $3,500. This is a more affordable option because it requires fewer aligners in total. If you have minor issues such as tooth alignment problems, Invisalign Express can make the necessary corrections in a shorter period of time, at a more affordable price.
CONCLUSION
When it comes to calculating the total cost of Invisalign, you'll get different answers as it depends on the many stages of treatment a patient may require. Those with minor dental issues will only require a few stages, while others with more severe issues will need more extensive treatment. Your dental provider will determine whether you're a good candidate for Invisalign Express or if traditional Invisalign is a better option for you.
In some cases, patients will need metal braces to help with more serious teeth straightening requirements. Overall, Invisalign has many advantages over conventional metal braces, poses fewer risks to teeth and gums and helps patients achieve beautiful smiles much faster. Be sure to consult with your orthodontist or dental care provider to learn more about the best treatment for you.
BOOK ONLINE TO GET A FREE EXAM & X-RAY